A dig through many worn newspaper clippings found in my grandmother June's recipe box, jammed tight with yellowed recipe cards and fragile newsprint pieces, revealed a recipe for
Hamburger Corn Pone Pie
. It's one she snipped out of
The Dallas Morning News
food section many decades ago, before we started calling this
Tamale Pie
. The basics are all there, though we like more chili powder now — I use 2 to 3 tablespoons today, as opposed to the 2 teaspoons preferred in their day. My grandmother crossed out the canned kidney beans on her copy of the recipe, which is fine with me, as I like corn instead. The old recipe calls for the onion to be cooked in shortening, but I use olive oil. Finally, my cornbread crust incorporates corn kernels and fresh chiles for added flavor.
---
Serves 8 to 10
Chili Filling
2 teaspoons olive oil
1 medium yellow onion, chopped
1 clove garlic, minced
2 pounds lean ground beef
1 ½ cups crushed tomatoes in tomato puree
2 to 3 tablespoons chili powder
¾ cup corn kernels, cut from cob (or canned, drained)
Sea salt to taste
---
In a sauce pot, warm oil and sauté onions for 5 minutes over medium heat until softened. Add garlic, sautéing until just softened. Raise heat to medium-high and add ground beef, stirring and browning for about 10 minutes. Stir in crushed tomatoes, reducing heat to medium-low. Simmer, uncovered, stirring occasionally, for 10 to 15 minutes; add chili powder and simmer, stirring occasionally, for 30 minutes. Consistency should be thick. Stir in corn kernels and simmer another 5 minutes. Skim off any excess fat, add sea salt to taste and transfer to a buttered casserole dish. Top with cornbread batter (recipe below) and bake at 425 degrees for 20 to 25 minutes or until just browned at edges. Cool for 10 minutes before serving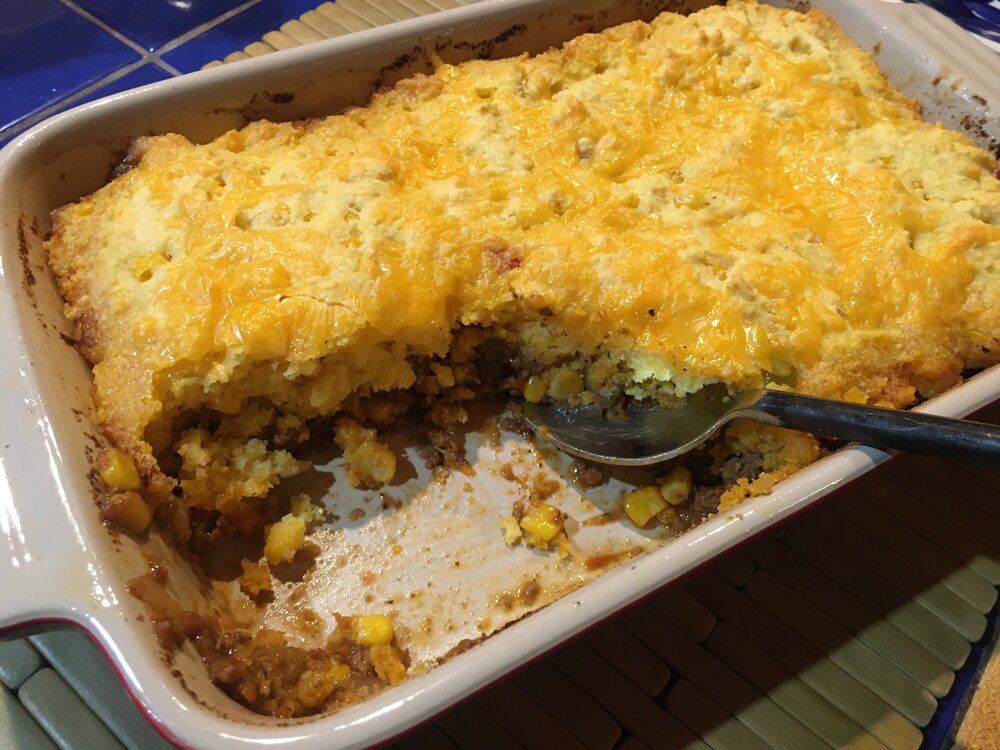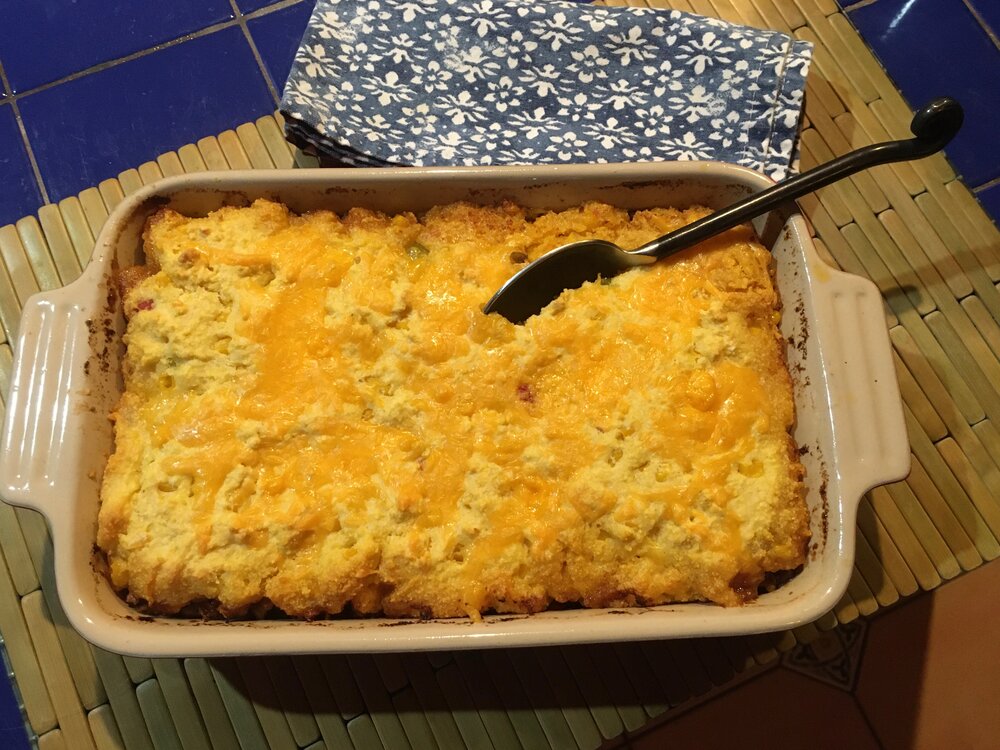 Cornbread Batter
1 cup golden cornmeal
1 cup all-purpose flour
1 tablespoon baking powder
1 teaspoon sea salt
1 egg, beaten slightly
1 cup buttermilk
¼ cup butter, melted
¾ cup corn kernels, cut from cob (or canned, drained)
1 to 2 serrano chiles, chopped (optional)
---
While chili simmers, combine cornmeal, flour, baking powder and sea salt in a mixing bowl. Making a well in the center, add egg, buttermilk and melted butter. Stir with fork just to combine. Add corn and chiles and stir just to incorporate. Spread over chili in casserole dish.